German firm Metro Cash & Carry broke ground on Jan. 16 for its new wholesale center in Dong Nai Province bordering Ho Chi Minh City, raising the total number of it outlets in Vietnam to nine.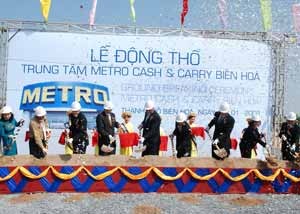 Representatives of Metro Cash & Carry and Dong Nai Province break ground for the new Metro outlet in Bien Hoa City on Jan. 16
"Dong Nai Province is one of the top foreign direct investment provinces in Vietnam. The province has a favorable position which has many backbone national roads crossing… We are therefore firmly convinced that the province offers great potentials for our cash and carry wholesale business", Randy Guttery, Metro Cash & Carry Managing Director in Vietnam, said at the groundbreaking ceremony.
He added that the average investment for each Metro wholesale center is 20 million euros.
Located in Quang Vinh Ward, Bien Hoa City, the new outlet will have a sales floor of about 8,000 square meters for more than 35,000 food and non-food products, according to the German company. Like the eight operational outlets in HCM City, Ha Noi, Hai Phong, Da Nang and Can Tho, the new one will open from 6 AM to 9 PM, seven days a week.
Up to 95% of the goods at the new outlet will be made-in-Vietnam products, according to the German firm.
Mr. Guttery said, "Metro Cash & Carry Vietnam lives up to its responsibilities to society – not only as a reliable taxpayer and employer, but also as a pioneer in supporting local suppliers."
The company opened its first Vietnam wholesale center in 2002 in HCM City. It has helped build direct supply sources from Vietnamese businesses and farmers, as well as trained local farmers and fishermen methods to maintain quality standards to have their products certified up to the norms of the quality assurance system GlobalGAP.
Also on Jan. 16, the HCM City-based retail network Saigon Co.op opened a supermarket in Trung My Tay Ward, District 12 in the city. This is the network's 34th supermarket nationwide.