In addition to Mekong Delta farmers' worries about a rice price-fall and low consumption, they are now facing a shortage of laborers and harvesters in the lead-up to the peak winter-spring crop harvesting season.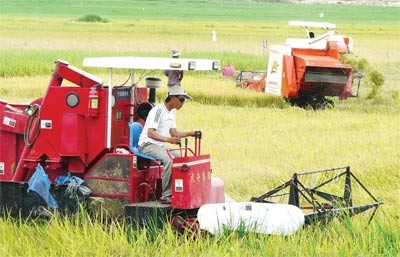 A farmer uses a machine to harvest rice on a paddy in the Mekong Delta region
Farmers are worried because most of the harvesting will need to be started in two weeks time, but the majority has failed to find enough laborers to do the job. Most young men, who typically perform the work, have left the countryside for better prospects at industrial parks.

Farmers from An Giang, Dong Thap and Can Tho have also complained about hired laborers demanding an increase in wages. At present, the average wage is about VND300,000 per 1,000 square meters of land harvested.

Mekong Delta farmers typically sow and harvest rice at the same time as each other, therefore leading to simultaneous demand for both laborers and harvesters.

The region has only 6,400 harvesters, enough to help harvest just 15 percent of the region's total rice farming area.

Harvesting machines are costly at around VND150-200 million (US$8,000-10,500), and thus, small-scale farmers want to pay only what they have to.

The Mekong Delta Rice Institute estimates that farmers are losing VND3.2-3.6 trillion ($168-189 million) a year, equal to 12 percent of the total produce after harvesting, due to a lack of specialized machinery.

Delta province authorities have admitted that the mechanical sector is weak and the quality of harvesters is poor.

In addition, most farms are small measuring less than 1 hectare, while infrastructure is poor. This makes it difficult to use harvesting machinery, as most equipment is designed to harvest around 3-5 hectares a day, said local officials.

Nguyen Thanh Son, vice chairman of the Can Tho City People's Committee, said that in April 2009 the Prime Minister issued a directive on subsidizing interest rates for loans given to buy agricultural machinery, equipment and materials; but to date, many farmers have failed to access the bank loans.

The Government has also adopted many preferential policies to boost mechanical development including agricultural mechanics.

At present, only the Vietnam Engine and Agricultural Machinery Corporation, Hanoi Machinery Company and Saigon Industrial Corporation have the capacity to manufacture agricultural machines for local use and export, but in very small quantities.