Over the past few days, a shortage of sugar cane has been reported by processing mills in the Mekong Delta.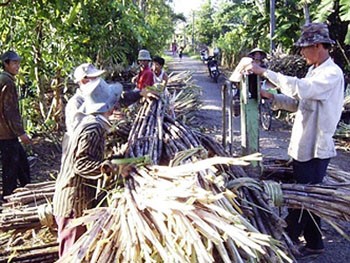 Farmers harvest sugar cane in Hau Giang Province in late October (Photo: NLĐ)
One reason for the scarcity is that the delta's growing area has recently been narrowed. The delta earlier had over 90,000 hectares of sugar cane but now has just 67,000 hectares.
One ton (907 kg) of sugar cane is currently selling at VND730,000-810,000, which brings farmers a profit of VND50-80 million for each hectare harvested.
Some sugar mills have pushed the price to VND830,000 a ton but say they are still failing to operate at their highest capacity.
The largest sugar cane growing area in the delta, Hau Giang Province, has harvested 8,000 out of 13,000 hectares.