According to the Government's planning, the Mekong Delta is an area for producing agricultural goods, but to boost economic growth many provinces in the region have focused on industrial development since 2000, with so many industrial parks spring up that many are still untapped.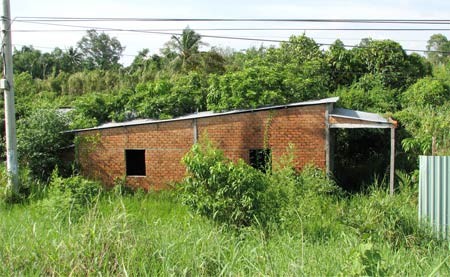 A residential house left fallow for construction of Hung Phu Industrial Park in Can Tho City (Photo: SGGP)
The region currently has 111 industrial parks (IPs) and complexes that cover a total area of 24,091 hectares. Most of the big-scale IPs are concentrated in Can Tho City and Long An, Kien Giang, Ca Mau and Hau Giang provinces.
 
Long An has the most industrial parks and the largest industrial area, with 24 parks occupying nearly 8,278 hectares, or 35 percent of the total industrial park area in the region.
 
Kien Giang is second, with nine parks occupying 7,111 hectares, or 29 percent of the region's industrial area.
 
Industrial parks have attracted 494 investment projects, including 70 foreign-owned projects worth US$7.66 billion, and 424 local ones worth VND5,867 billion, creating jobs for over 52,000 people.
 
Developing IPs affirms the Government's proper policy on industrialization, as it has facilitated socio-economic development of rural areas. Especially, the seafood processing industry has made great contributions to agricultural development in the Mekong Delta.
 
However, in terms of general development, there remain many problems in the region's economy as well as its industrial sector.
 
Squandering land
 
In Can Tho City, only Tra Noc 1 and 2 industrial parks have fully complete infrastructures necessary to successfully attract investors, while hundreds of hectares of good land along Hau River in Hung Phu 1, Hung Phu 2A and Hung Phu 2B industrial parks have not been used because the infrastructure of these parks has yet to be built.
 
Not only these parks, but also the planning of O Mon, Bac O Mon and Thot Not IPs, which cover 1,600 hectares, have affected residents living along Hau River in terms of site clearance and relocation.  
 
Kien Giang has five IPs occupying over 750 hectares, but only one of them has begun to build its infrastructure and attracted four investors with total registered capital of VND185 billion.
 
Located along Hau River with many advantages related to water transport, the 300-hectare Song Hau IP in Hau Giang Province has only one investor.
 
The squandering of land is also seen in IPs in Soc Trang and Bac Lieu provinces.
 
Only 36-40 percent of each IP in the region is being used and some IPs are only utilizing 5 percent of their land.
 
According to a study by the Vietnam Chamber of Commerce and Industry' branch in Can Tho, only over 810 hectares, or 22 percent, of IPs have been rented.
 
Mekong Delta provinces have built 177 industrial complexes with total 15,457 hectares, and only 15 of them, occupying over 700 hectares, have been rented.
 
In sum, the region has squandered about 17,600 hectares, representing over 92 percent of the area designated for IPs.
 
Most of the planning area has been assessed as fertile for growing agricultural plants including rice, fruits and vegetables.
 
Provinces have wasted their land because they did not study or calculate when developing IPs. Provinces have even built IPs without synchronously constructing the necessary infrastructure.
 
Making paddy fields and residential land into industrial parks
 
To get approval for building five more IPs on farming land, Vinh Long authorities reported that 1,000 hectares of 1,930 hectares needed for new IPs are farmlands that produce low yields, about 4.07 hectares of rice per hectare, while the land truly produces 6-7 hectares.
 
To become the province with the most IPs, tens of thousands of households in Long An have had to move and resign their land for construction of IPs, with an average of one hectare of land reclaimed per three households that have had to relocate.
 
Nearly 1,300 households in the province's Thu Thua District have lost their land since 2004, and 4,300 households in Ben Luc District, 5,300 households in Duc Hoa District and 4,100 households in Can Giuoc have also moved.