Mekong Delta rice price has moved up recently days due to low stock.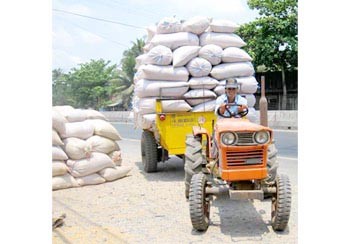 Mekong Delta farmers are excited due to the rising rice prices (Photo: SGGP)
Hon Dat District in Kien Giang Province is one of some towns with paddy fields not harvested yet. Along coastal communes like Luynh Huynh, Tho Son, and Son Kien, farmers were found animatedly reaping their rice fields on Sunday.
The rice price, which plunged to just VND3,000 a kilogram in the early crop, has increased to VND5,300-6,500, highest since the beginning of the year.
With the price, farmers earn VND20 million per hectare in net profit, according to local sources.
Farmer Nguyen Van Nam in Luynh Huynh Commune says each kilogram of rice fetched VND5,500, profiting him VND30 million (about US$1,500) this crop.
Traders have flocked to Tho Son and Son Kien communes to buy the little rice remaining in the areas, some of them are willing to pay farmers first though their fields have yet been harvested.
According to provinces' departments of agriculture and rural developments, just few localities enjoyed the glorious prices while most of others had sold out at the time of price drop.
At present, 80 percent of the 1.6 million hectares of summer-autumn crop in the delta have been harvested, the remaining fields will complete reaping in the next few days, said Dr Pham Van Banh, head of the Mekong Delta Rice Research Institute.
Hundreds of households in the delta are preparing to cultivate the autumn-winter crop, which will begin early October, he said.
In related news, the Vietnam Food Association said in the first eight months of the year, Vietnam singed contracts to export 6.5 million tons of rice.
Over 72 percent of the contracts has been delivered, bringing a turnover of US$2 billion, nearly 9 percent higher than the same period last year, it said.
VFA forecasted the rice export in the year's second half will be bright as African countries and China have strengthened purchase while prices of other farm produce have rocketed.