Thousands of tons of rice are being imported from Cambodia into the Mekong Delta daily for processing and distribution.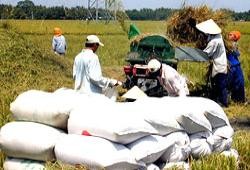 Mekong Delta granary has to import rice from Cambodia.
Cambodian merchants sell rice to Vietnamese agents at the border town of Ha Tien in the Kien Giang Province. The agents turn around and sell it to local merchants from the provinces of An Giang, Can Tho, Long An, and the Tien Giang where it is processed for consumption.

Merchants in the Dong Thap Province's Tam Nong and Hong Ngu districts buy about 500 tons of Cambodian rice per day.

The increased importation of Cambodian rice is coupled with a ban on Vietnamese rice exportation which is in effect until the end of the year.
The PM has taken this action as a means to secure that the national food supply is ample enough to withstand a national emergency.

An additional benefit of purchasing Cambodian rice is that agents can purchase it tax free, per an agreement between the two nations.

Rice prices have decreased VND 100 to 200 per kilogram over the last two weeks in the Mekong Delta.