The Mekong Delta provinces are in the midst of their peak harvest season with a bumper summer-autumn rice crop this year.
Rice prices are already high and demand for rice exports continues to grow.
Local businesses are preparing to buy rice from farmers for temporary reserves as farmers are unable to store rice in the present humid weather conditions.
Summer-autumn profits same as winter-spring
Recently, rice prices in the Mekong Delta provinces increased from VND100-300 per kilogram to VND5,700-5,800 per kilogram.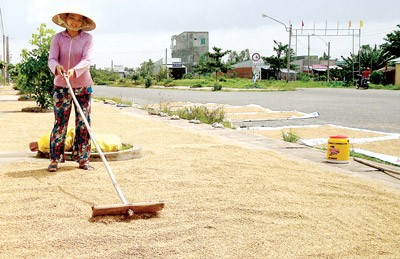 A farmer drying rice at a roadside in Binh Minh District of Vinh Long Province.(Photo:SGGP)
Nguyen Van Nam from Dong Binh Commune in Binh Minh District of Vinh Long Province said this year many farmers were harvesting a bumper summer-autumn crop with more than six tons per hectare. They are also earning high profits as production costs have fallen and rice prices have increased.
Tran Van Ta from Dinh Yen Commune in Lao Vo District of Dong Thap Province said he had harvested two hectares of IR50404 rice with a total output of 11 tons per hectare.
At the current price, he can earn a profit of about VND60 million (US$3,000) on two hectares of rice.
Similar situation prevailed in Thot Not area of Can Tho City. Farmers here are very glad about the bumper harvests as they can sell all their rice at a high price, said Nguyen Van Thi, a farmer from Co Do District in Can Tho City.
He said that he used OM4218 rice seed this time and had a bumper crop. With rice prices at VND6,000 per kilogram, he can get a profit of VND30 million (US$1.500) per hectare, equal to the last winter-spring crop profit.
On the other hand, prices of rice exports are decreasing but still on the high side. The export price for 5 percent broken rice is at US$460-465 per ton, while 25 percent broken rice sells at US$430 per ton.
According to the Vietnam Food Association (VFA), Vietnam has exported more than 339 million tons of rice, worth over US$1.6 billion till now.
For growing their bumper crop, farmers in the Mekong Delta provinces used rice seeds that adapted well to local conditions, implemented measures to exterminate pests and applied advanced technology to reduce production costs.
Buying rice for temporary reserves
Currently, rice export companies in the Mekong Delta provinces are ready to purchase 1 million tons of rice for temporary reserves under a plan of VFA.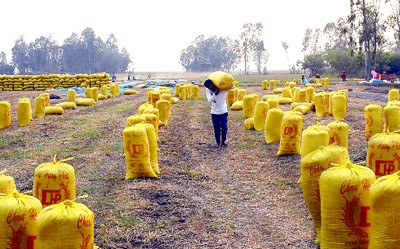 Rice being packaged before selling.(Photo:SGGP)
Duong Quoc Toan, deputy director of Song Hau Food Company said that the company's depots have a capacity of more than 120,000 tons of rice.
The company is currently purchasing 500-1,000 tons of rice per day and storing rice in three depots in Cai Rang, Thoi Lai and Tra Noc districts of Can Tho City.
The Mekong Delta provinces cultivated a total of 1.6 million hectares for this year's summer-autumn rice crop. 250,000 hectares of rice were harvested in the region, with average productivity of over five tons per hectare.
Some provinces like An Giang, Dong Thap, Hau Giang and Can Tho City had a bumper crop with output of more than 5.5 tons per hectare, even six tons per hectare in some areas.
Duong Quoc Nghia, director of Dong Thap Province Department of Agriculture and Rural Development, said up to now, farmers have harvested around 100,000 hectares out of 197,000 hectares of summer-autumn rice crop with output of 5.9 tons per hectare, an increase of 0.3 - 0.4 tons per hectare compared to last year.
With the estimated rice output, after balancing domestic demands and the national reserve, the rice volume for exports will be more than 4.5 million tons.
According to Vietfood, rice prices in the world market are falling sharply because many countries are harvesting crops with increased yields. However, Vietnamese rice export still enjoys a favorable demand in the world market. The Food and Agriculture Organization (FAO) has forecast that rice prices will continue to rise to hit the same high record they had in 2009.