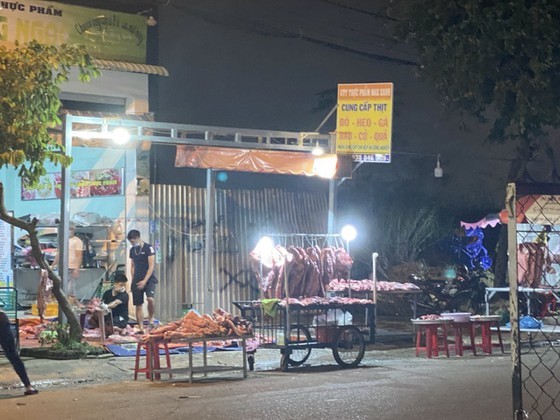 Pork is sold in front of the gate T1 of Hoc Mon Wholesale Market. (Photo: SGGP)
For three
wholesale markets
, Hoc Mon has reopened stalls after closing for more than three months. Binh Dien and Thu Duc are still running transshipment points, with about 500 tons of goods per day. Because wholesale markets are operating moderately, with 20-30 percent of stalls reopened and goods are not abundant, the number of people going to the market is small, and the purchasing power is not high.
A representative of the Hoc Mon Wholesale Market said that by the morning of October 22, more than 100 stalls of vegetables, fruits, and pork had been reopened, and more than 400 tons of goods had arrived at the market, but trade activities were muted. Most fruit and vegetable traders could only sell about 50 percent of their stock through the gathering and transshipment points.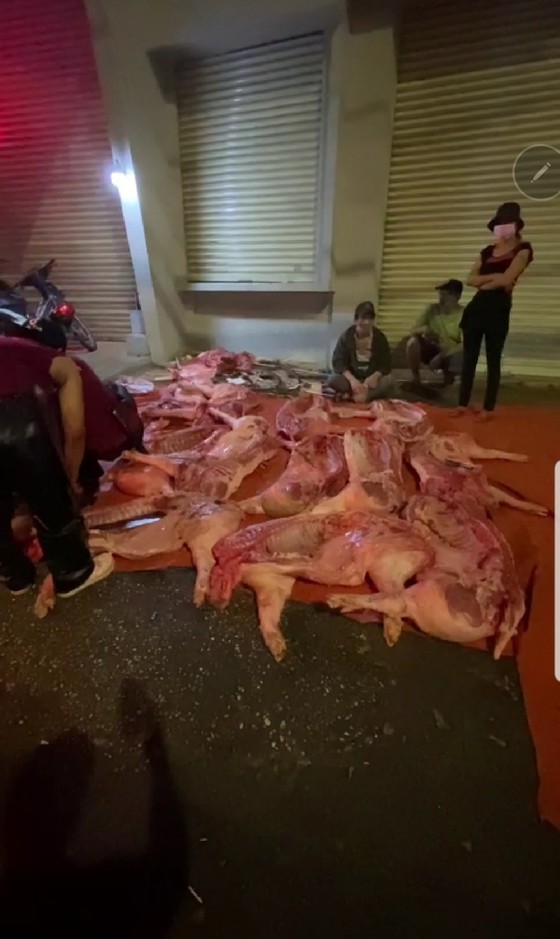 Pork is sold on the roadside of the National Highway 22 near the Hoc Mon Wholesale Market. (Photo: SGGP)
However, on the National Highway 22, Nguyen Thi Soc Street, and the roads around the wholesale market, trade activities were bustling, even encroaching onto the roadway.
At Binh Dien and Thu Duc wholesale markets, the situation was similar. Faced with the current situation, the wholesale market management companies made a petition, stating that "the spontaneous points of sale mushroomed around the wholesale markets cause disordered traffic safety and do not ensure regulations on pandemic prevention. They also make traders in the wholesale markets unable to sell goods. Some traders have left wholesale markets to rent premises to sell goods outside.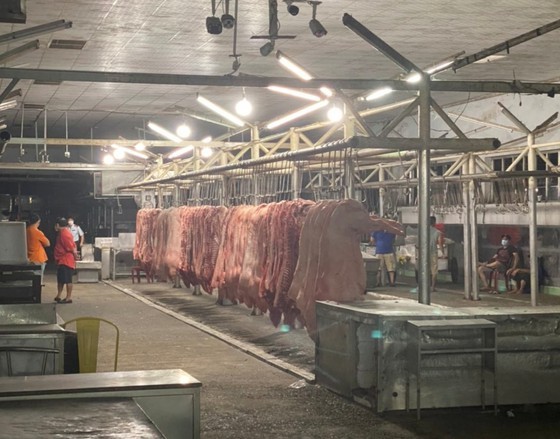 Pork stalls in the Hoc Mon Wholesale Market see no buyers. (Photo: SGGP)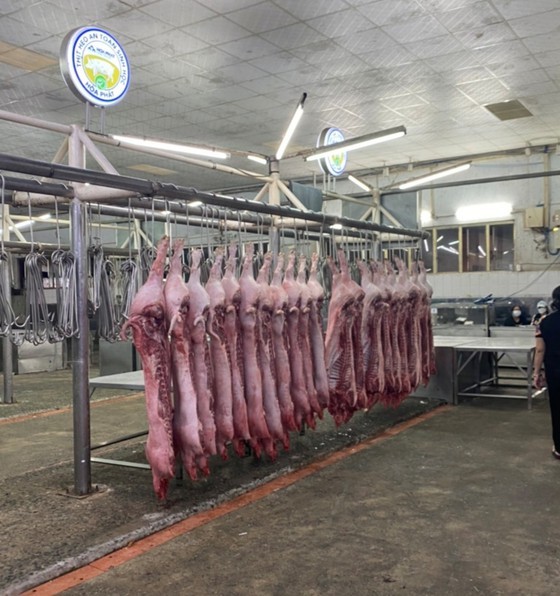 A pork stall inside the Hoc Mon Wholesale Market. (Photo: SGGP)
Representatives of supermarket systems also said that after more than three weeks of reopening, sales are decreasing by 20-30 percent, depending on the locality, although the prices of goods are stable and there is no sudden increase.