Many streets in Ho Chi Minh City like Hai Thuong Lan Ong and Luong Nhu Hoc in District 5, Ngo Nhan Tinh in District 6 and Phu Binh parish in District 11 are festooned with multi-colored lanterns for the Full Moon Festival, which falls on September 12 (August 15 on the lunar calendar).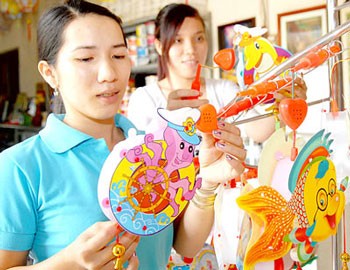 Traditional Vietnamese lanterns made of paper and bamboo of different shapes such as dolphin and octopus. (Photo: SGGP)
Hoards of Chinese made plastic lanterns are on sale in shops. Their price varies from VND15, 000 to VND40, 000.

However, these days one has to be careful of toxic chemicals inside plastic products, especially those made in China.

According to market insiders, Chinese plastic lanterns are often made from poor quality toxic plastic and contaminated with heavy metals which can be harmful to health, especially for little children.

This year the Mid-Autumn Festival has many colorful lanterns in diverse shapes and styles made by local enterprises.

New Technique and Packing Company has launched around 120,000 products in the market, at prices ranging from VND16,000-VND28,000.

According to general director Huynh Van Khanh, products made by the company use nontoxic plastic and have a legal license for producing kids' toys.

On the other hand, the company also presented Vietnamese traditional lanterns made of paper and bamboo of different shapes, such as dolphin, sea horse and octopus.

Lanterns are available at many supermarkets including Metro, Big C and Co-op Mart.

Birthday Party Organizing Company on 543/4, Nguyen Dinh Chieu Street in District 3 also introduced various shows for families and enterprises on the occasion of Mid-Autumn Festival.

Shows were priced between VND5-15 million and included exciting performances of the circus, kylin dragon dance, sand painting and masquerading.