Statistics released by US customs on November 4 showed a marked increase in bilateral trade between Vietnam and the US in 2011 compared to figures in 2010.
Figures show that Vietnam's exports to the US in the first eight months of this year reached US$11.3 billion, up 20.6 percent against the same period last year, while US exports to Vietnam reached $2.7 billion, a year-on-year increase of 21.5 percent.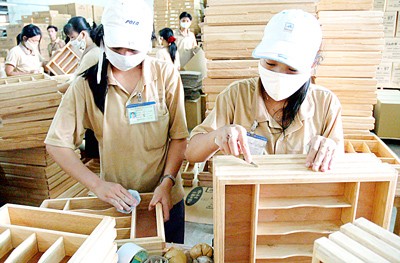 Workers produce wood furniture to export oversea at a company.
Garments, textiles, footwear, seafood and wood products formed the bulk of the country's main exports to the US. Garment and textile export turnover in 2011 was the highest at more than $4.8 billion, up 19 percent compared to last year.
Agricultural product exports saw the sharpest increase of 41 percent, followed by paper and paper products, which went up 33 percent; machinery by 29 percent; footwear by 26 percent; and handicrafts by 25 percent.
Meanwhile, US mainly exported machinery, equipment, raw materials and food to Vietnam, of which cotton saw the highest increase of 100 percent, followed by machinery, electrical equipment and spare parts with 80 percent rise and plastic products by 49 percent.
There was also a 30 percent rise in milk and dairy products, poultry eggs, honey and motor vehicles.