Local wood producers should focus on developing their business in the domestic market to avoid domination of foreign products.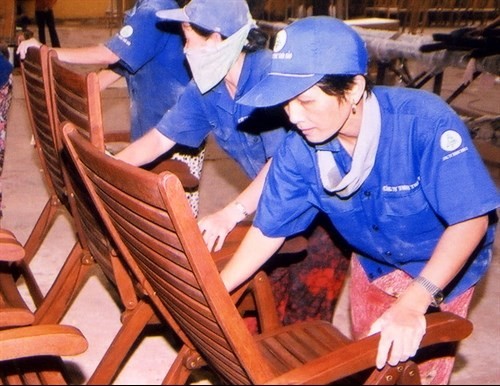 Armchairs produced at Thai Bao Limited Liability Company in Nhon Hoa Industrial Zone, Binh Dinh province (Photo: VNA)
Deputy Chairman of the Vietnam Wood and Forest Product Association (Vifores) Nguyen Ton Quyen made this observation at a seminar on chances and challenges from importing material of wood held on April 4, 2016 in Hanoi by the association and Forest Trends Organisation.
At present, the local wood producers have ignored the domestic market so they should come back home, Quyen said, adding that if they don't do that, the foreign producers would enter further the local market because Vietnam would integrate further into the global market in the future, he said.
In addition, he said the State should have policies on encouraging local wood producers to put more investment in the domestic market.
The domestic wood market has great potential for doing business but domestic enterprises lack information about it. They have set up independent business to exploit the domestic market but lack cooperation in developing that business. Meanwhile, state management offices have not done any market research for the domestic wood market, including the kinds of wood and demand for wooden products.
In the future, free trade agreements that Vietnam has signed with its foreign partners would come into effect, and that would open up opportunities for foreign producers to develop the domestic market further, he said.
Now, there were enterprises from 30 countries and territories registering to invest in the wood industry in Vietnam, especially those from China.
That would help foreign enterprises to join the origin tax at zero, clear origin and low selling price for material of wood, he said.
According to Vifores, last year, Vietnam imported 4.79 million cubic metres of sawn logs worth 1.66 billion USD, an increase of 11.3 percent year on year.
To ensure the legal origin of wood imported into the market, experts from domestic associations and Forest Trends suggested that Vietnam should have a list of all kinds of wood imported. The state should have a channel to contact domestic wood importers directly to receive full information about wood imports and then have mechanism to control wood imports efficiently in the future, including the legal origin of imported wood.-