Vietnamese firms have just won a bid to sell 474,000 tons of rice to the Philippines, according to the Trade Information Center of the Ministry of Trade.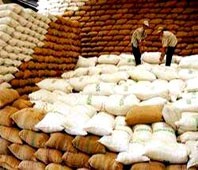 Rice in stock in Viet Nam
The 25-percent broken rice was priced at US$308 per ton on average and will be delivered between February and April, the center said on Wednesday.
The Vietnamese Prime Minister has recently decided that this year's rice export volume should be 4 till 4.5 million tons to ensure food security. The amount would be adjusted if necessary in the third quarter, based on the yields.  
Viet Nam is expected to post paddy rice output of about 36 million tons this year, according to the nation's Food Association. 
Related article
VN to Ship 250,000 Tons of Rice to Indonesia