Sales of motorbikes imported from China have dropped dramatically in Hanoi since local consumers favored domestic products, which have higher quality and offer installment payment agreement.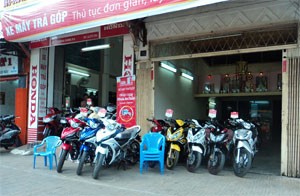 Shops showcase Japanese and domestically assembled motorbikes only (Photo: Minh Tri)
A survey show nine of 10 motorbike shops around the capital city had stopped selling made-in-China motorbikes for more than one year due to lack of demand.
"No one asks for Chinese motorcycles these days," said an owner of a polled shop.
They say cost of a motorbike domestically assembled by joint ventures, such as Honda Vietnam, Yamaha Vietnam and Suzuki Vietnam, is reasonable, amounting to around VND11-14 million (US$650).
"Unlike Chinese manufacturers, domestically assembled motorbike makers offer explicit warranty. They also cooperate with financial companies to provide monthly installment payment for local consumers.
Thi of Hanoi's Long Bien District says he has never thought of buying a Chinese motorbike since the cost of domestically assembled ones remained "acceptable".
"If I cannot afford a domestically assembled motorbike at once, I will pay in installments," he said.
Thang, another resident of Phu Tho Province, has replaced his made-in-China motorbike with a Yamaha Vietnam one as "my Chinese motorbike is rapidly getting dilapidated after just a few years of use and uses way too much petrol."
A street motorbike repairman of Long Bien District, identified as Cuong, says Chinese motorcycles have poor-quality spare parts, leaving them getting broken easily.
Of 10 polled motorbike shop, only one on Nguyen Luong Bang Street in still provides made-in-China motorcycles. The shop's owner Binh said he provided Chinese motorbikes for people in rural areas.
However, the sales are also slowing down significantly now as they switch to buy domestically assembled motorbikes, which offer installment payment agreement, Binh said.
"Cost of a Chinese motorcycle last year was around VND4.8 ($240). However, it soared to about VND6.5 million per motorbike on the increase in spare part cost, transporting fee and import tax rate," Binh said.