Many local advertisers fight for outdoor advertising despite it makes a small portion of the market's revenue due to a shortage of skilled workforce, say experts. Television commercial, which has larger profit margin, is dominated by foreign enterprises with advanced equipments.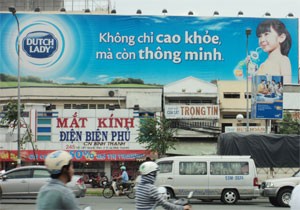 A huge billboard of dairy firm Dutch Lady Vietnam in HCMC. Cost of a billboard placed in downtown of the city amount to US$35,000 per year (Photo: Minh Tri)
Figures from the Vietnam Advertising Association (VAA) show sales of the country's advertising industry amounted to around US$1 billion last year, while the annual growth rate of the sector reached 20-30 percent.
"The advertising industry remains booming as local businesses are still eager to run ads despite economic turmoil. They have recognized the importance of advertising," says VAA general secretary Tran Hung.
Statistics show there are 10 foreign advertisers in Vietnam, including Saatchi & Saatchi, Dentsu, TBWA, Riverorchid and Bates 141.
Most local advertisers are now focusing solely on outdoor advertising. According to VAA, outdoor advertising made up merely around 20 percent out of last year's sales of $1 billion.
"Making outdoor ads requires many legal documents, in which local firms obviously have an edge over their foreign opponents," a local advertiser's director disclosed to Dau Tu Tai Chinh Newspaper.
"Therefore thousands of Vietnamese advertisers still favor outdoor advertising although it makes just a small portion of the market's sales."
Outdoor advertising, or out-of-home advertising, is essentially any type of advertising that reaches consumers while they are outdoor.
It is focused on marketing to consumers when they are "on the go" in public places, in transit, waiting at a medical office or a retail venue. Outdoor advertising formats fall into four main categories, including billboards, street furniture, transit, and alternative.
"Vietnam's outdoor advertising remains underdeveloped as it is shackled by many regulations. Each province has different regulation on outdoor advertising," says Nguyen Thanh Tam, director of advertiser MTN.
"Besides, advertising fee is increasing sharply. The cost of a billboard placed at downtown of the city soar to VND500-700 million ($35,000) per year from VND100 million per year."
"Foreign advertisers overtake local firms to dominate television commercial as they have advanced equipments and technologies. Vietnamese advertisers still hesitate to buy those stuffs and also lack actors and directors for television commercial only," says ARTI head Do Kim Dung.