Authoritities in central coastal province of Quang Ngai have canceled many delayed projects with large registered investments. The projects have been abandoned as investors were hit by the economic slowdown.

HCMC-listed property group Tan Tao received permit to conduct a construction project on a 2,600-hectare complex with the total investment of US$50 million in Duc Pho District in 2007.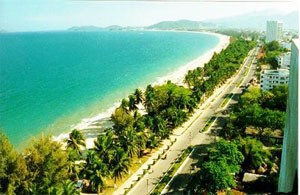 View of a beach in the central coastal province of Quang Ngai
The complex named Vina UniverSal was set to include a world-standard studio, shopping mall and resorts.
Local authorities expected the complex would boost the economic and social growth of the district and the southern area of the coastal province.
However, after three years, Tan Tao Group eventually announced it had to cancel the project due to a capital shortage.
Quang Ngai Province's authorities have also granted permits to another project on building the first international general hospital with the total investment of more than VND800 billion ($40 million).
The hospital was expected to have 500 beds with hi-tech equipments.
However, the Quang Ngai International General Joint Stock Company – the project's investor – announced they had to abandon the project and issued a public apology just nine months after holding a big groundbreaking ceremony.
Statistics from the Quang Ngai Province Industrial Zone Management Authority show permits of 13 investment projects have been revoked since last year.
Analysts say the province's policies on encouraging investment flows in previous years have resulted in many delayed projects.
"Delayed projects have impacted to the local business environment and weakened investments flowing into the province," says Huynh Thi Phuong Hoa, deputy director of the Quang Ngai Province Investment Promotion Center.
Careless assessment of investment projects and investors' financial base is among the main causes of delayed projects, Hoa says.
The province's authorities announce they have checked on projects in progress and will revoke permissions for those which are being carried out at snail pace.
Investment flow has been stronger since the Dung Quat oil refinery and Doosan Heavy were built in the Dung Quat Economic Zone, says Le Van Dung, deputy head of the zone's management authority.
However, some investment projects by both domestic and foreign investors that have received permits were canceled or halted due to economic meltdown, Dung says.