Newly registered foreign direct investment projects along with existing projects asking for additional capital in the first 11 months of the year have now touched US$21 billion in Vietnam.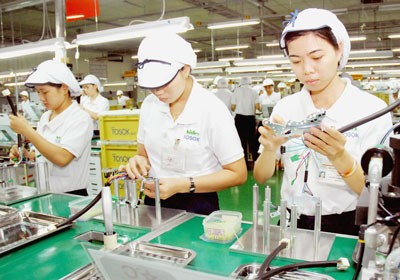 Illustrative image. (Photo: SGGP)
By November 20, around 1,175 FDI projects were licensed with total registered capital of nearly $13.78 billion while 446 existing projects have asked for additional capital of $7.03 billion.
Industrial processing and manufacturing remained the most attractive sector with $16.07 billion, accounting for 77.2 percent of total FDI capital. Power generation and distribution, gas and water supply, and air conditioning followed with $2.03 billion, accounting for 9.8 percent of total FDI capital. Real estate sector came next with 20 new projects with capital of $884 million.
Japan continues to be the biggest investor in Vietnam with total newly-registered and additional capital of $5.68 billion, accounting for 27.3 percent of total FDI capital. Singapore and South Korea were the runner-ups.
Thanks to key projects of Samsung, Thai Nguyen Province has the most FDI capital with $3.35 billion, accounting for 16.1 percent of total FDI capital, followed by Thanh Hoa and Hai Phong Provinces.
In the first 11 months of 2013, FDI projects disbursed $10.55 billion, up 5.5 percent year-on-year.