While Viet Nam is aiming to expand its labor export market to developed countries, labor export companies are facing a serious shortage of skilled workers with good language skills.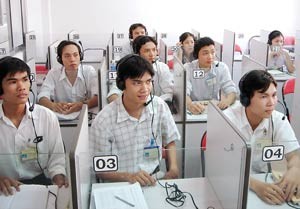 Vietnamese laborers study English in a vocational school
Exporting laborers and experts is an important strategy for Viet Nam to reduce poverty; the strategy aims to create new jobs and train workers for the country's ongoing process of modernization and industrialization.

According to an official from the Labor Management Office, most laborers in the labor export program realize career advancement when coming back to their country and thus, can continue to facilitate Viet Nam's economic development.

Demand exceeds supply

Recently, domestic labor export companies have signed contracts to send thousands of Vietnamese laborers to foreign markets with an average monthly salary of US$1,000 to US$2,000. However, only 5 to 10 percent of the candidates meet the required standards.

Ms. Nguyen Thi Thanh Man, head of the representative office of the Petro Tourism Service Center (OSC) in Northern Viet Nam said many Korean corporations have set up monthly recruitment programs in Viet Nam. But with such high recruitment requirements — including two-three years of working experience and good communication skills in English — only one third of the candidates are qualified for the first round, and only one or two candidates manage to pass the interview round.

Mr. Le Van Ha, Manager of the Trading and Service Company's (Sovilaco) Engineer Exporting Department, said his company was in need of 100 electrical technicians to work in Singapore but no one good enough has been found.

Other labor export companies have found themselves in similar situations when they failed to find qualified laborers to send to Japan, Korea, Australia, and New Zealand.

Foreign language: biggest barrier

Vietnamese laborers are known for their diligence and intelligence. The biggest threat to the country's labor export industry is poor language skills.

Most of the potential labor export candidates are college graduates with years of working experience; many of them test at an intermediate level of English, but this level is not reflected in their communication skills.

Training programs for laborers

In this situation, Mr. Bui Nam Xuan, Director of the Southern Waterway Transport Services and Labor Export Company (Selaco) said, "We should not wait for the laborers to come to us. Instead, we ourselves must take the initiative to produce the skilled workers with good language skills that meet the requirements of foreign employers."

Selaco has invested VND50 billion (approximately US$3.2 million) to set up the Selaco Vocational School which is collaborating with Aus+-tralia's Oxford University in providing laborers with professional and language skills.

Other labor export companies have also had their own training programs set up recently. However, the government should also work out a more effective strategy for helping train the country's labor force and expanding the export of labor to foreign markets.