South Korea's Topvina Corporation has signed a leasing contract with Viet Nam's Au Lac Company to operate the famous Tuan Chau Resort in Quang Ninh Province over a period of 40 years.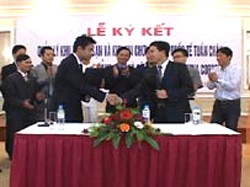 Representatives of Topvina and Au Lac sign the deal to lease Tuan Chau Resort to the Korean investor
Under the contract signed last week in Ha Long City in the northern province, the Korean firm will take over operations of the whole resort beginning right this month and the two sides will renegotiate about the price and other cooperation terms every ten years.
 
Within the next three years, Topvina will spend US$20 million to upgrade the resort and the recreation complex, and build a sea sport complex and a seafood restaurant. In addition, the quality of art performance programs will be improved.
 
The Korean investor also plans to spend US$30 million to build a five-star hotel on Tuan Chau Island, which has been planned under the initial blueprint but which has never been off the ground.
 
Topvina General Director Lee Cheon Suk said Tuan Chau has many advantages as well as potentials to be developed into a high-grade tourism area. At the moment, infrastructure and services here have nothing special. The Korean investor will make it a famous cultural, tourism and leisure destination.
 
Topvina began the upgrade of the resort so that they can receive tourists next summer. The resort is aimed to attract foreign visitors from Japan, South Korea and Southeast Asian countries.
 
Topvina is a 100% Korean-owned entity established in Viet Nam by a group of three Korean individual investors in tourism, construction, commercial and handcrafts.