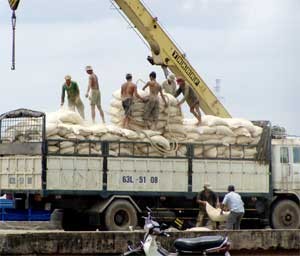 Cargo loading at Saigon Port in Ho Chi Minh City (Photo: Tuong Thuy)
Korea Line Corp., South Korea's fourth largest shipping company, has established a joint venture with Saigon Shipping Co. in Ho Chi Minh City, Korea's Yonhap News Agency reported late January, 2006.
"Along with our offices in China and Japan, the new venture in Viet Nam will serve as a stronghold to complete our Asia-wide networks," company spokesman Jo Jeong-hun was quoted by Yonhap.
The joint venture, called Korex-Saigon Logistics Co., signifies Korea Line's expansion into a logistics stronghold, according to Jo.

The new company's operations include container shipping, inland transportation, customs clearance, forwarding and storing goods, he said.
The joint venture is 41.3% owned by Korea Line and 25% by its affiliate K.E.C. International Co., an international logistics company, and the remainder by Saigon Shipping, he said.
Korea Line, established in 1968, will this year bolster efforts to establish global logistics networks connecting all of its overseas offices in the US, China, Japan, Viet Nam and Cambodia, Yonhap quoted him.