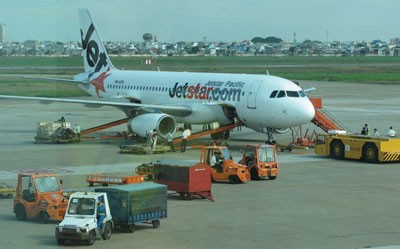 Jetstar Pacific Airlines use trade name of Jetstar Airways on its planes. (Photo: SGGP)
The Civil Aviation Administration of Vietnam (CAAV) said low-cost carrier Jetstar Pacific Airlines (JPA) is infringing on the country's civil aviation laws by using the same trade name as Australian carrier Jetstar, in a report issued October 22.
CAAV said that other airlines in the region operating under a joint venture like JPA and Jetstar Airways (JA), didn't use trademarks identically as JPA did.
It noted Thai AirAsia and AirAsia as examples.
Thai AirAsia and AirAsia are two separate airlines of which Thai AirAsia is licensed by Thailand's Ministry of Transport. AirAsia, meanwhile, was directed by the Malaysian Government to operate a Thai-Malaysian route under an aviation agreement between the two countries.
However, the names of the two carriers must legally be distinguishable from one another.
Despite AirAsia allowing part of its brand name to be used by Thai AirAsia, the latter is not allowed to use the trademark "AirAsia" for any commercial advertisement.
JPA, on the other hand, is using the JA trademark in nationwide advertisements which may be confused with its Australian counterpart, said CAAV.
JPA says it has the right to continue conducting business under the JA brand name as it has completed registration procedures for trademark and commerce concession to the Vietnam National Office of Intellectual Property and the Ministry of Industry and Trade.
However, CAAV says JPA cannot use these certificates as a shield and that it remains against civil aviation laws.
JA is not authorized to operate domestic flights in Vietnam or flights from Vietnam to other countries, with the exception of Vietnam-Australia routes, which are licensed under an agreement between the two countries.
Therefore, JA only has the authority to allow its brand name to be used on the Vietnam-Australia route, CAAV said.
CAAV also said it could not allow foreign carriers to participate in the domestic aviation industry without following proper legal channels.
It has ordered JPA to create its own, distinct trademark.
CAAV's report has been sent to the Government and the Ministry for consideration.