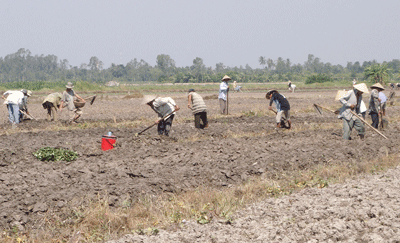 Farmers in Binh Tan District in Vinh Long Province preparing a field to plant sweet potato ( Photo: SGGP)

Many farmers in the Mekong delta region are leasing their fields for Japanese sweet potato cultivation at around VND40-60 million per hectare (US$1,920-2,880), even though this is the best time for winter-spring rice planting.


Land on lease

According to Le Trung Toan, deputy director of the People's Committee of Ngai Tu Commune in Tam Binh District in Vinh Long Province, the area for sweet potato planting has gone up substantially, 1 hectare to 30 hectares in just one year.
Moreover, this increase has been initiated without official endorsement of the Ngai Tu Commune People's Committee.
Nonetheless, many farmers showed preference for this method of leasing land than to go into rice cultivation. Nguyen Ngoc Loi, a farmer from Binh Ninh Hamlet in Ngai Tu Commune, said on her 3,500 sq metre plot of land her family could sow rice thrice a year, reaping 6 tonnes per hectare per season.
However, by leasing the land at VND4 million per 1,000 sq metres she immediately received VND14 million (US$672.5), without a drop of sweat!

Another example is that of Nguyen Van Phuc who has a 2,500 sq metre plot of land. Since both his neighbours, Nguyen Van Minh with two hectares and Pham Hoang Son with 3,500 sq metres have already leased their land for sweet potato planting, he can only do the same, saying that it was very difficult to keep growing rice in the middle like that.

Le Van Phai, another farmer from Binh Ninh Hamlet, sorrowfully shared that he had to switch to another job because the field he had leased for years to grow rice, was sandwiched between sweet potato fields, making it impossible to earn a healthy profit.

As Toan said, it was the policy of the district to encourage farmers to intercrop other types with rice once a year but not for all three seasons like this, as this will destroy the district's agricultural plan. The careless use of unidentified plant protection chemicals is also worrying local authorities.
Chinese traders

This sudden switch to growing sweet potato this year has already spread to Kien Giang, Dong Thap and Can Tho Provinces.


"Farmers themselves can decide how to use their land to bring in high profits. However, agricultural officers often warn them against following this newest trend to grow sweet potato, to avoid destroying the local planning process."
Vo Van Theo, Director of the Bureau of Agriculture and Rural Development in Binh Tan District in Vinh Long Province.
Not satisfied with five hectares of sweet potato cultivation, Ngo Van Phuc from Thanh Loi Commune in Binh Tan District in Vinh Long Province came over to Thoi Hung Commune in Co Do District in Can Tho City to lease three more hectares, saying that the land was ideal for this kind of crop, not only for high yield but also safe during the flood season.
Following Phuc, others like Tam Liem from Thanh Trung Commune and Nguyen Van Thanh from Tan Thanh Commune in Binh Tan District also leased their plots of land in Thoi Hung Commune for the same purpose.
As a result, most fields in Co Do District at the moment are under Japanese purple sweet potato cultivation, to sell to Chinese traders in Binh Minh District.
According to Nguyen Van Quet, director of the People's Committee of Thoi Hung Commune, in the past two years the area has attracted many investors from other parts, which is not a welcome scenario. This could decrease the production of rice a great deal as well as seriously mess up the local planting season.
Ngo Thanh Son, chairman of the Bureau of Agriculture of Rural Development in Co Do District, reported that more than 600 hectares of rice growing area has been transformed into sweet potato fields, most of which were leased to farmers from Dong Thap and Vinh Long Provinces.
At the moment, there is no specific data on this matter in the Mekong Delta provinces. Nonetheless, basic results show that most people coming to lease land and hire on-the-site farmers are brokers of Chinese traders, who are able to invest a large amount of money (about VND200-300 million per hectare), taking over tens of hectares.