Viet Nam's Bao Minh Insurance Corporation and the Commonwealth Bank of Australia say they are selling their jointly owned Bao Minh CMG Life Insurance Company to the Dai-ichi Mutual Life Insurance Company of Japan.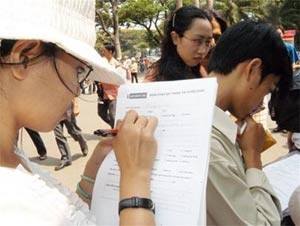 Job seekers fill in application forms to work for Bao Minh CMG at a job bazaar in Ho Chi Minh City in 2006 (Photo: Tuoi Tre)
The commercial terms of the sale are confidential. The takeover is subject to regulatory approval and the parties will work together to deliver a smooth transition of the business in the first half of this year.
Customer benefits provided under Bao Minh CMG's policies will remain unchanged as they will automatically be taken over by Dai-ichi Life following completion of the sale.
Bao Minh CMG has reported strong growth since its establishment in 1999. It is the fifth largest life insurance company in Viet Nam in terms of premium income, with over 50 offices nationwide.
Dai-ichi Mutual Life is a leading Japanese insurer and the takeover matches with the company's strategy of expanding its market presence in Asia.
Related link
Dai-ichi Mutual Life Insurance

Related article
US Insurer Expands Ops across Viet Nam