The exhibitions aim to further develop Vietnam's supporting industry, strengthen domesticalization rate, increasingly purchase components and parts of Japanese businesses in Vietnam.
These exhibitions were co-organized by Reed Tradex- the ASEAN's leading exhibition organizer, the Japan External Trade Organization (JETRO) and the Department of Trade Promotion under the Ministry of Industry and Trade of Vietnam.
Deputy Minister of Industry and Trade Do Thang Hai emphasized that in addition to remarkable achievements, Vietnam's supporting industry still has many limitations in large trade gap for parts and components.
In order to develop the supporting industry and receive supports from Japanese enterprises, these exhibitions are considered as opportunities for Vietnamese firms to promote trade, cooperation and transfer technology with the partner.
Speaking at the opening ceremony, Chief Representative of Japanese External Trade Organization (JETRO) in Hanoi Mr. Hironobu Kitagawa said that Japanese investors evaluated the Vietnamese market as an attractive investment destination.
About 70 percent of Japanese investors wanted to do their business in the Southeast Asian country.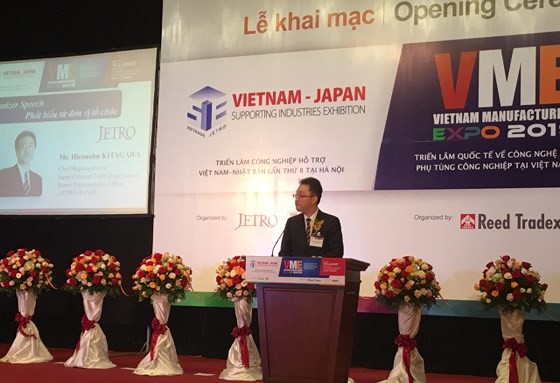 Chief Representative of Japanese External Trade Organization (JETRO) speaks at the opening ceremony

The rate of purchasing parts and accessories of Japanese investors in Vietnam has increased significantly since 2010, and this rate has surpassed Malaysia, but it has still been followed by China, Thailand, Indonesia, etc. As this reason, the domestic businesses still have to import main components from other countries.
More than 200 brands from the 20 leading technology countries in the world such as Japan, the Republic of Korea, China, Thailand, the United States, etc participated in the exhibitions.

This is considered as an opportunity for Vietnamese component providers to enhance cooperation as well as to connect with Japanese manufacturers.