The disbursement of foreign direct investment into Vietnam grew 13.6 percent year-on-year in the first quarter of this year, with around US$2.5 billion disbursed to projects, according to the Ministry of Planning and Investment.
An estimated $1.4 billion was disbursed in March, says the ministry's Foreign Investment Agency. The numbers of February and January were US$700 million and $400 million, respectively.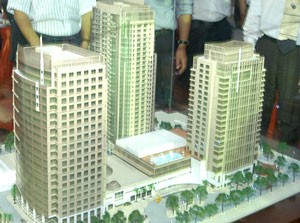 A model of the Korean-invested Kumho Asian Plaza in Ho Chi Minh City's District (Photo: Khanh Van)
Vietnam has attracted almost $2.14 billion in fresh FDI so far this year, coming from new pledges of funds and increased capital in existing projects. This result dropped 71 percent from a year earlier, according to a report from the agency.
The ministry said only US$1.92 billion was committed to 139 new FDI projects, a fall of almost 71% from last year's first quarter.