Vietnam saw export revenue from agricultural, forestry and aqua products between January and August increase by 34.2% on the year-earlier period to US$16.4 billion, according to agriculture ministry statistics.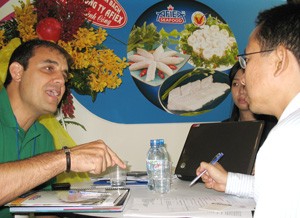 A foreign buyer (L) talks about business with representatives of Vietnamese seafood company Afiex An Giang during the 2011 Vietfish in Hochiminh City late June. Vietfish is Vietnam's annual largest fisheries show, and aqua product is one of the country's key export earners. (Photo: Tuong Thuy)
The country has so far this year shipped about 5.4 million tons of rice, valued around US$2.7 billion. The performance reported a year-on-year increase of 9.4% percent in volume and 14.6 percent in value, the report said.

The Philippines is still the largest buyer of Vietnamese rice, followed by Indonesia, which has significantly increased its purchasing, according to the ministry. Other major buyers of Vietnamese rice include Bangladesh, Cuba, Ivory Coast and Malaysia, said the report.
An estimated 958,000 tons of coffee were exported between January and August to create US$2.1 billion in revenue, up 12% in volume and over 72.2% in value. The average export price is US$2,234 per ton, increasing by 57% on the same period last year.
Meanwhile, rubber shipments totaled 449,000 tons worth US$1.9 billion, up
4.1% in volume and 65% in value.
The world's rubber demand is forecast to remain high till the end of the year, the report said.
In all, exports of agricultural goods have created US$9.3 billion over the past eight months, up about 44%. Aquatic products posted a rise of 24.4% to US$3.7 billion, and the forestry sector saw US$2.6 billion in export revenue, rising by 12.4%.
Among the forestry products, furniture and other wooden items made up to $2.4 billion.
Vietnam expects a total of US$23 billion from this year's exports of all agricultural, aquatic and forestry products. Last year's result was reported at $19.2 billion.