Property investors and builders have united to cope with the ongoing credit crunch, which had a significant impact on the real estate market and construction industry this year.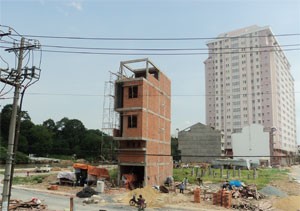 The credit crunch this year results in a significant impact on property market (Photo: Minh Tri)
Saigon Thuong Tin Real Estate Joint- Stock Co., a unit of the fourth-biggest bank on Vietnam's main stock market, has cooperated with eight building material suppliers in an effort to weather the difficult time.
Under their agreement, the building material suppliers will help the Ho Chi Minh City-based property firm, known as Sacomreal, speed up its construction projects this year and cut input costs.
They also accept deferred payments and ones in installments without lending interest rate, enabling Sacomreal to cut the apartment cost by 10-20 percent, says the property firm's chairman Dang Hong Anh.
Sacomreal has received permits for building apartment blocks including Belleza in District 7, Carillon in Tan Binh District and Sacomreal Hung Vuong in District 6.
Efforts to curb the credit crunch have also see investors team up with builders to conduct construction projects.
Duc Khai Joint Stock Company, contractor of the apartment building Era Town in District 7, gives construction firm Hoa Binh 240 apartments, instead of cashes. 
The HCMC-based builder sells a small amount of the apartments to its staffs at preferential prices before trading the rests on market, the firms says without disclosing the details.
Statistics show Hoa Binh has sold 160 apartments so far – impressive sales during the gloomy time, experts say.
Property firm Vinh Phong Thai also followed the pattern, paying apartments to builder Phuoc Thanh, which constructs its apartment block Hoang Kim The Gia in Binh Tan District.
Builders are willing to get payment in apartments since they can take good profits from the apartments, which they were offered at a very low cost compared to market prices, says a director of a real estate firm.
"Cooperation is the best solution for property enterprises to cope with this year's credit squeeze," says Nguyen Bao Hoang, deputy general director of the ThuDuc Housing Development Joint Stock Company.
The HCMC-based property company has partnered up with Vinatex Land to construct the apartment block TDH – Phuc Thinh Duc and the shopping mall Aquila Plaza.
The cooperation will not only help local enterprises to weather the hard time, but also boost their strength and competitiveness, Hoang told Dau Tu Tai Chinh Newspaper.
The State Bank of Vietnam is trying to keep this year's credit growth below 20 percent in an attempt to control inflation.
In the meantime, commercial banks have been ordered to cut back on lending to the non-production sector, which includes the stock and real estate markets. The aim is to limit credit in this sector to 16 percent by the end of the year.