The United Nations and the Vietnam Chamber of Commerce and Industry (VCCI) launched yesterday a world-wide business network to promote sustainable and responsible business practices.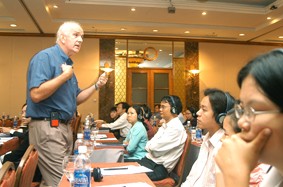 Dr. Alan Le Serve, senior advisor on labor protection to the Ministry of Labor, War Invalids and Social Affairs, talks on the corporate social responsibility (CSR) at a seminar in HCMC in June
The UN Global Compact Network, which was unveiled at a ceremony held in Ho Chi Minh City with more than 100 participating businesses, called on companies to embrace 10 universal principles encompassing human rights, labor standards, environment, and anti-corruption.
 
The Global Compact Network Vietnam will act locally to tackle challenges faced by companies committed to the health and well-being of Vietnamese people.
 
It will also address corporate social responsibility (CSR) issues and facilitate access to and sharing of best practices.
 
"It is important to promote a transparent debate on CSR in Viet Nam, and it's even more important to understand the implications and positive benefits CSR can bring to companies themselves and to Vietnamese society as a whole," VCCI vice chairman Doan Duy Khuong said.
 
Launched by former UN Secretary General Kofi Anna at the World Economic Forum in 1999, the compact is an attempt to make the private sector an integral part of the development process and to enhance ties between the private sector and UN organizations.
 
"With Viet Nam's rapid economic growth and increasingly sophisticated business environment, it is indeed a fitting moment to launch it and to raise awareness of the role of CSR in the development process," UN Resident Coordinator John Hendra said at the launch.
 
The compact is also a platform for UN bodies, business associations, NGOs, and trade unions to learn about and promote CSR and ethical business standards.
 
As part of the network, the 6th Asian forum on the social responsibility of enterprises was held in Ho Chi Minh City today.
 
About 600 enterprises from 44 countries and territories joined the forum to discuss how social responsibility shown by enterprises can reduce poverty and eliminate hunger, improve investment and trade, and facilitate business activities.
 
The forum titled "Social Responsibility of Enterprises- Momentum to Promote Growth and Development" aims to highlight reform and demonstrate the best practical ways, through attention to community issues, for enterprises to show and promote social responsibility as a corporate strategy.