Intel Products Vietnam and Saigon Hi-Tech Park (SHTP) signed a memorandum of understanding yesterday on business ethics and code of conduct in a move to jointly fight corruption.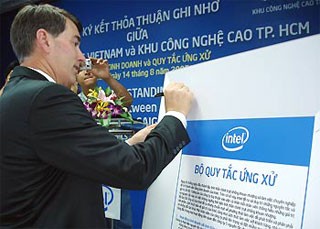 Rick Howarth, General Manager of Intel Products Vietnam, signs the company's Code of Conduct
Under the memorandum, both parties are committed to doing business ethically and in compliance with the law to fight corruption and bureaucratic inefficiency.
 
Both Intel and SHTP committed to investigating and taking appropriate actions to solve issues related to code of conduct, and in the case of ethical issues involving external parties, both organizations agreed to report appropriate cases to each other or relevant organizations.
 
Ethical issues to be reported include any offers or acceptance of bribes, kickbacks and any other form of corrupt or improper business practices, as well as any adverse consequences caused by failure to meet such requests.
 
General Manager of Intel Products Vietnam Rick Howarth, SHTP President Nguyen Dinh Mai and US Consul General to HCMC Kenneth J. Fairfax signed Intel's Code of Conduct to commit the parties to social accountability.
 
Intel's internal code commits it to conducting business with integrity, complying with the law in all circumstances, providing an equal and indiscriminate working environment; and commits its employees to working for the sake of the company's interests and protecting its assets and reputation.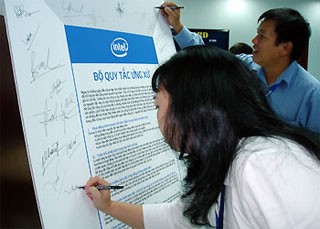 Intel employees sign the company's Code of Conduct
Mr. Howarth said, "The main purpose of the memorandum is to promote a transparent investment environment at SHTP."
 
SHTP President Nguyen Dinh Mai praised Intel's agreement and said it kicked off a process of improving toward a transparent investment environment and away from negative behavior such as corruption, bribery and the abuse of power.
 
The memorandum marks further development in the relationship between SHTP and Intel and asserts the validity of their multifaceted partnership, which will certainly yield mutual benefits, he added.
 
In March, the US chipmaker giant began construction of a US$1 billion chipset assembly and test (A/T) facility in SHTP which is scheduled to begin production in mid-2009.