Domestic and imported fertilizers are in ample supply for 2010 but price fluctuations should be expected, according to Vietnam Fertilizer Association.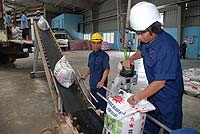 NPK fertilizer is produced at the Binh Dien Fertilizer Company in Hochiminh City (Filed photo)
The Association also said Vietnamese fertilizer makers need to co-operate more.
Most fertilizer types were in good supply for the summer-spring rice crop, the association said.
Fertilizer imports and production until the end of April will reach 661,000 tons of urea, 150,000 tons of SA, 128,000 tons of DAP, 190,000 tons of Kali and 1.3 million tons of NPK.
Prices of many kinds of fertilizer increased as the urea price increased by US$20-25 per ton, DAP rose by $90-215 per ton, ammoniac increased by $95-125 per ton, with sulfur topping the list of price hikes by rising $120-130 per ton.
According to Nguyen Hac Thuy, deputy chairman of the Vietnam Fertilizer Association, demand for fertilizer for agriculture would rise this year over last year with pressures from limited ammoniac and sulfur exploitation.
Therefore, businesses should keep a cautious watch on world markets to limit risks and draw up import and production plans, he said.
Nguyen Quoc Phong, director of Binh Dien Fertilizer Company, one of the big NPK fertilizer producers in the country, pledged to keep stable fertilizer prices until May.
Deputy Chairman of the association in southern Nguyen Quoc Phong said the association succeeded to keep fertilizer prices stable in 2009, however, failed to control fertilizer imports.
More cooperation this year was vital as last year many businesses imported fertilizers at higher prices than other countries, Phong said.
According to Phan Dinh Duc, General Director of PetrolVietnam Fertilizer and Chemicals Corporation, in two or three years, domestic fertilizer producers will be able to export, so they need to co-operate.
The association needs to play a more active role in organizations and help its members, Duc said.