Imported steel ingots have climbed by US$190 per ton in the past 12 months to reach an unheard-of US$580.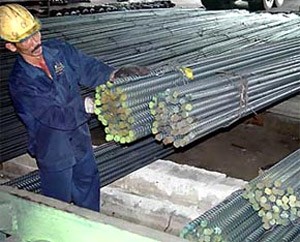 The import price of steel ingots hits a record high in mid-September
The Vietnam Steel Association (VSA) is warning of heavy losses for local steel companies if they don't increase their prices to match their higher costs.
 
Currently its members are selling their steel products for VND200,000 (US$12.50) a ton less than the competition.
 
With the peak construction season fast approaching, a steel shortage could materialize, the VSA says.
 
Because of the dramatic rise in the import price, some companies have raised their price by VND100,000 and even VND200,000 since the start of September and are now charging VND10-10.2 million (US$625-637) for a ton of finished steel.
 
Higher domestic steel prices across the board are a very real possibility in the near future even though most producers have promised the Finance Ministry's inspectors to hold theirs steady and even cut the price in some cases.
 
The VSA reported the dramatic changes in the construction steel market to the ministries of Industry and Trade, and Finance on September 12 and told them it might have no choice but to charge more for finished steel.