Vietnam's import spending on automobiles this July dropped to US$75 million on 4,000 vehicles, a sharp drop from June with 7,000 imported cars at a total value of $122 million, according to the General Statistics Office.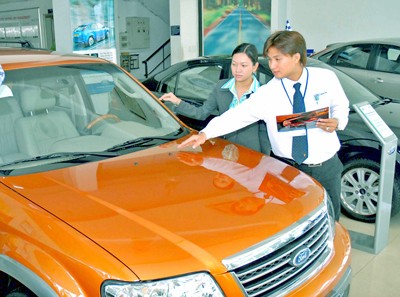 Autos displayed in a showroom (Photo: Sggp)
Industry insiders attribute this sharp decline to the impact of the Ministry of Industry and Trade Circular dated May 12 this year on additional formalities and documentations in the import of passenger cars with nine seats or less.
According to the ministry circular that came into effect June 26 this year, importers of passenger vehicles of nine seats or less must submit documents to authorized State agencies to complete all import formalities. The circular is aimed at protecting the interests of consumers, limiting trade deficit and ensuring public transport safety.
The General Statistics Office reported that the country imported 38,500 automobiles worth $707 million in the first seven months of this year, a 40 percent increase over the same period last year. Additionally, there has been a decline in various models of motorcycles.