The overall housing market remains gloomy with few houses being sold. Only optimism has been seen in the low-income housing market.
 
Low-income houses selling well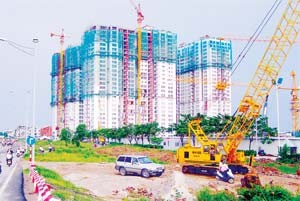 An apartment block in Nha Be District, Ho Chi Minh City, is under construction (Photo: SGGP)
Most low-income houses, especially Binh Thanh and Tan Binh districts, are changing hands at VND1.5-2.5 billion.
 
As many as 56 houses were sold at ACB Real Estate (ACBR) in April.
 
Pham Van Hai, ACBR general director, said people who have bought low-income houses have a real demand for accommodation. High-end houses are barely being sold.
 
Sacombank Real Estate, agent for 12 housing projects in Ho Chi Minh City, Vung Tau and Binh Duong, said only three houses are sold daily.
 
A realty company said 5,447 houses or apartments have been for sale since early this year, and most are middle to high end accommodation and in districts 2 and 7.
 
Despite falling house sales, prices for land has soared recently, up VND10 million (US$565) per square meter compared to last month. Some land on Nguyen Thi Thap Street, District 7 has increased to VND60 million per square meter.
 
A director of a real estate agency in the area said land prices have increased but there have been no house sales.
 
He said development projects are at a disadvantage, as it might cost VND2 billion ($113,000) to build a house. In the current economic climate, not many people can afford to buy them.
 
Office leasing industry gloomy
 
Phu My Hung, which used to be an ideal place for foreign businessmen to rent houses, has seen fierce competition. Though rent prices have fallen, few want to rent.
 
A landlord in Phu My Hung said he leased his house at $2,000 per month last year, but he reduced the rent to $800. However, he has recently had to reduce the price to $500 after another landlord cut his price.
 
The landlord said due to the economic situation, half of foreign tenants have left the country.
 
Office buildings are also in the same boat.
 
Savills, a UK-based property group, said office rent has fallen constantly since early this year.
 
A-grade office rent has fallen by 19 percent and capacity demand by nine percent. Grade B and C offices have seen rent fall by 15 percent and five percent respectively.
 
Savills forecasts rent will continue to fall until the end of this year, especially when an extra 98,000 square meters of space become available in the middle of this year following the completion of four major developments.