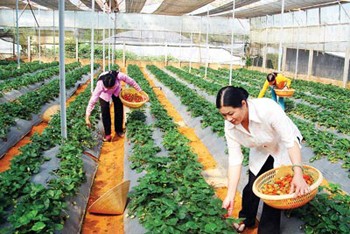 Da Lat's farmers collect strawberries. (Photo:SGGP)

Da Lat's strawberry growers have benefited from heavy rains during the last two weeks, which have damaged crops and reduced the number of strawberries, causing prices to rise. The rises are forecast to continue.
Traders are buying strawberries at VND15,000 – 17,000 a kilogram, up to three times higher than in the beginning of the year.
At the market, the finest variety was sold at VND50,000 – 60,000 a kilo. The second class variety was sold at VND30,000 – 40,000 a kilo.
Strawberry growers are expected to make profits of VND5 - 6 million per 1,000 square meters a month.
Da Lat strawberry fields cover an area of 200 hectares.