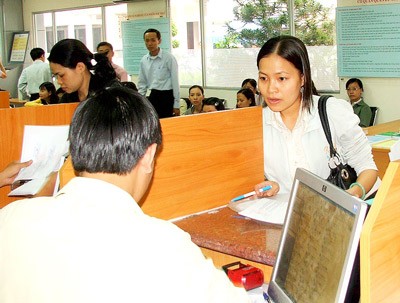 Taxpayers at Ho Chi Minh City Tax Department (Photo: SGGP)
Ho Chi Minh City taxpayers have seen faster, more efficient tax-paying procedures thanks to a new pilot program which began last month.
The city was selected as one of four municipalities in the country to test out a three-month trial program whereby citizens can file their taxes online.
The Ministry of Finance is aiming to modernize and simplify administrative procedures following a September 9 report by the World Bank which said Vietnamese firms spend 1,050 hours a year filing taxes.
Mr. Hai, an accountant, said it used to take him a couple of days to file his taxes. But thanks to the new procedures, he is now able to file his tax returns through the Internet in a matter of minutes. 
"All the procedures can be done through the Internet and at any time in the day," he said.
The online option also help firms save time and money, said Ms. Hoa, a business owner, adding that firms can register by simply providing an email address and digital signature.
Tran Thi Le Nga of the city's Tax Department said the amount of paper documents the department had to store has also been significantly reduced. Moreover, less staff was required to handle the volume and security of the paperwork.
The trial program has been well received after being applied for the month of September at 100 businesses in the city.
In October, an additional 100 firms in the city began to take part. The Tax Department will assess the efficiency of the new procedures by the end of the year and expects to offer the online services to all firms in HCM City by next year.
The pilot program is also being tested in Hanoi, Danang, and Ba Ria – Vung Tau.