The Department of Industry and Trade will be permitting more than 670 enterprises to participate in an annual "Sales promotion month" this September, in Ho Chi Minh City.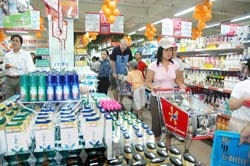 Goods will be discounted by 4-49 percent. (Photo:Sggp)
Enterprises from diverse fields of consumer products, electronic appliances, garments, fashion wear, chemicals, cosmetics, pharmaceuticals, textiles, telecommunication and the tourism industry will offer to lower their prices by 4-49 percent during the event.
The program will be conducted at 2,500 shopping centers throughout the city.

The month will begin with a promotional fair from August 31 to September 4 at the Phu Tho Indoor Stadium on 1 Lu Gia Street, Ward 15, District 11.