Ho Chi Minh City always appreciates the role of Japanese enterprises and welcome them to invest in fields such as environment protection, anti flooding and traffic infrastructure, said city Party Committee Secretary Dinh La Thang yesterday morning.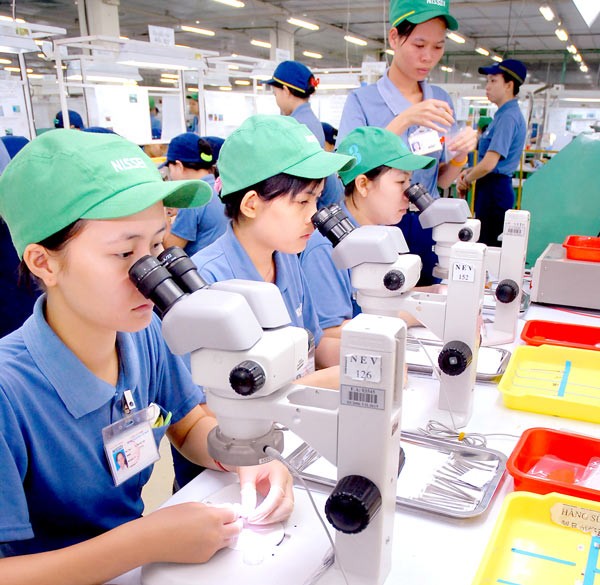 Workers of Japanese Nissei Electric Company in Linh Trung Export Processing Zone (Photo: SGGP)
Receiving special advisor to Prime Minister Shinzo Abe Mr. Isao Iijima, who was leading a delegation of many Japanese enterprises in a business trip to HCMC, Mr. Thang suggested the Japanese side to study and create a variety of cherry blossom tree to plant along cleaned up canals in the city.

At the meeting, Mr. Thang sent his condolences to Japanese in quake hit province Kumamoto.
The extensive and deep strategic partnership between Vietnam and Japan has been well developing, he affirmed.

Appreciating economic and commercial cooperation relations between the two nations, Mr. Iijima said that the delegation to HCMC includes businesses playing the key and significant role in many fields of the Japanese economy.

They hope to operate in a clear environment when investing in Vietnam, he added.

Besides ongoing cooperation fields, Japan will continue assisting Vietnam in four others namely agriculture, tourist development, landscape design, environment and salt penetration.

In addition, Japan wants to assist Vietnam to mitigate damage caused by fires. At first, it will supply HCMC with ten small fire trucks to suit local traffic conditions, he added.