Not that long ago, no one would have predicted that land prices in Districts 2 and 7 would reach VND 40 million per square meter, or that investors would have to pay VND 10 million for a square meter of land in District 9. These rapidly rising land prices highlight current changes in HCMC's real estate market.

The scheduled year-end opening of the Thu Thiem bridge is one factor behind the increasing land prices in District 2. A high-ranking official of VinaLand Co. said that investors are hunting for land with good infrastructure and adequate papers and thus will be ready for immediate construction.

In District 2, 80 sq. meter-plots of land in the An Phu - An Khanh project, located by 18-meter wide streets, previously cost VND22 million now range between VND 28 million to VND30 million. Plots with a view—for example homes overlooking the street, near a river bank, or in the commercial center—may climb up to VND 40 million per sq. meter.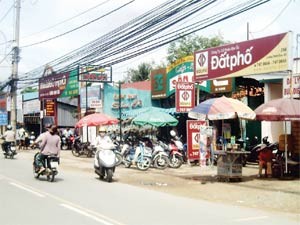 A street in District 2 where land prices highlight current changes in the city's real estate market
 Purchasers who wish to own a foundation for building a villa under the project of Huy Hoang Co. will have to pay from between VND 28 million and VND 40 million per sq. meter, depending on the area of the foundation.

District 9 has also witnessed a price increase of between 10 and 15 percent. Currently, plots of land with an area of 7m X 20m or 10 m x 20m under the Gia Hoa project range from VND7.5 million to 12.5 million per sq. meter, while a square meter of land under Phu Nhuan project costs from VND5.5 million to VND8 million.

In the Saigon South region, prices of land in Districts 7, 8, Nha Be, and Binh Chanh have enjoyed an increase from 5 to 10 percent. Prices of land in a number of areas nearby Phu My Hung, Him Lam, and Te Canal have also risen; the cost of housing foundations in these areas has seen an increase of almost 10 percent.

Representatives of real estate in the areas revealed that the number of people seeking land and houses is on the increase, resulting in the present excess in demand, which is a major contributing factor to the price increases.

After a lengthy period of decline, the real estate market in Ho Chi Minh City is undergoing vigorous change with new (higher) prices for land being established. Needless to say, investors in these sectors are in high spirits, while low-income families watch their dreams of owning a home slip further away.