In the framework of the 35th anniversary of diplomatic links between Vietnam and the Philippines, on July 13th, the Vietnam delegation led by Hua Ngoc Thuan, vice Chairman of the People's Committee of Hochiminh city took part in the seminar

entitled "Vietnam and the Philippines, economic and business cooperation".
The seminar organized in Manila by Vietnam Embassy to the Philippines.
The Philippines currently ranks fourth among ASEAN investors in Vietnam. Its investment in Ho Chi Minh City alone reached 40.32 million USD with 25 current projects.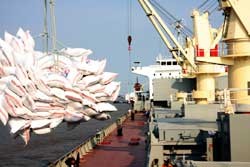 Rice is loaded at Sai Gon Port for shipment to the Philippines

Bilateral trade turnover increased five-fold from almost US$400 million in 2001 to over US$2 billion in 2009, with Vietnam being a long-term major rice supplier for the Philippines . The two countries also signed an agreement on fisheries co-operation in 2010.

Mr. by Hua Ngoc Thuan expressed hope that Philippines business circle step up investment opportunity in Hochiminh city.

Hochiminh city has been creating most favourable conditions for projects in this field, the city Vice Chairman said, adding he wished that investors from the Philippines would continue to invest and reap successes in Vietnam.

Mr Hua Ngoc Thuan expressed his pleasure at the rapid development of co-operation between Vietnam and the Philippines and spoke highly of the

He also briefed about program of the development in Ho Chi Minh City of 6 important sections, including the hi-tech zone project, 5 metro route project, building Thu Thiem urban area, building HiepPhuoc deep water port, contrasting policlinic in Thuduc district… ect.

According to VNA, Vietnamese firms are eagerly eyeing the Philippines, hoping to penetrate this lucrative market of 96 million people.

With its proximity to Viet Nam, the Philippines offers Vietnamese exporters plenty of opportunities but only recently have they begun to explore it.

Cau Tre Export Goods Processing Joint Stock Company is one company that typifies the trend.

Its general director, Tran Thi Hoa Binh, said she spent a lot of time in the Philippine capital Manila, visiting dozens of supermarkets, traditional markets, malls, and distribution channels.

"These visits helped me partly understand the tastes of Philippine consumers and identify the segment appropriate for the company's main products such as cha gio (spring roll), cha ca (fish paste), and cha tom (shrimp paste on sugarcane)," she told Tuoi Tre newspaper.

"We have for years exported our products to choosy markets like America, Japan, and Europe but still have little knowledge of this neighbouring market.

"So we do not know what kinds of products are to be exported," Binh said.

The Thanh Phuc Loc Company is also looking for partners in the Philippines to directly export its industrial salt products.

In the last two years it has exported hundreds of tonnes of products but only through contracts with a Singaporean partner, Nguyen Hong Phuc, its director, said.

"The demand for industrial salt in the Philippines is great but it is difficult for us to find clients there who want to directly buy our products."

The Hoang Anh Gia Lai Group (HAGL) expects to find Philippine investors in Vietnamese real estate projects.

Philippine investors had yet to invest in the Vietnamese property market unlike Singaporean and South Korean firms but Vietnamese firms had to introduce market segments appropriate for them, HAGL deputy general director Vo Truong Son said.

Market study

Viet Nam's commercial counsellor in the Philippines Phan Tuan Khoi said the Philippines' 96 million people have great demand for various kinds of goods.

Though it would take just four or five days for Vietnamese businesses to ship their goods to Philippine ports, they did not export to that country since they had not yet found potential distributors there, he said.

He stressed the need for Vietnamese entrepreneurs to visit the Philippines and carefully study the market and contact the right distribution channels and potential partners.

Viet Nam

's Trade Office in the Philippines was ready to support Vietnamese businesses coming to that country looking for opportunities, he promised.

Cashew, instant coffee, tea, pepper, plastic goods, garment and textile products, machinery, electrical cables, and electrical and electronic equipment could become popular in the Philippines, he said.

Trade between Viet Nam and the Philippines has risen six-fold in the last decade to US$2.4 billion.

The latter is now Viet Nam's biggest rice importer and has many companies successfully doing business here, such as Jollibee, United Pharma, and Oishi.