The Ho Chi Minh City Business Association and Doanh Nhan Sai Gon newspaper held a ceremony Oct. 13 to honor 99 people that the association and the paper had selected outstanding entrepreneurs this year.
The 99 entrepreneurs received certificates for their title at the ceremony, which coincided with the Vietnam Entrepreneurs' Day – October 13.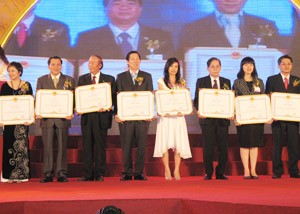 Some of this year's title winning entrepreneurs receive their certificates at a ceremony in Ho Chi Minh City Oct. 13 (Photo: Tuong Thuy)
The title winners included 13 people who have won this title for four years in a row, 2004 till 2008.
The 13 names are Phu Nhuan Jewelry Company chairwoman and chief executive Cao Thi Ngoc Dung, FIDECO chairman and chief executive Tran Huu Chinh, Kinh Do Corp. chairman Tran Kim Thanh, Nghia Nippers Co. chief executive Nguyen Minh Tuan, New Technology Co. chairman and chief executive Huynh Van Khanh, Ben Thanh TSC deputy chairwoman Nguyen Thi Thanh Ha, Duc Thanh Furniture chairwoman and chief executive Le Hai Lieu, Acecook Vietnam deputy general director Hoang Cao Tri, Maseco chief executive Nguyen Xuan Han, Thai Tuan Group chairman and chief executive Thai Tuan Chi, Pho 24 chief executive Ly Quy Trung, Thao Loan property developer's chairwoman and chief executive Vu Thi Bich Loan, and Thinh Phat Co. chief executive Vo Tan Thinh.
The three main criteria to win the title are to create wealth, observe the law, and take social responsibility.
Doanh Nhan Sai Gon newspaper, under the Ho Chi Minh City Business Association, also announced that Prime Minister Nguyen Tan Dung issued a certificate of merits for the newspaper's organizing the outstanding entrepreneurs program, starting in 2004.
So far, 435 business people have received this title.
In July 2004, based on an initiative by the newspaper, the association sent a proposal to the National Assembly, the Prime Minister and the Vietnam Fatherland Front, suggesting that October 13 be a day for entrepreneurs. In September that year, then Prime Minister Phan Van Khai decided October 13 be the Entrepreneurs' Day of Vietnam.