A recent report revealed that there are dozens of mildly and extremely toxic chemicals on the list of forbidden goods that are in free circulation in the market. Some of them have been used by companies in the food processing industry to enhance the taste of their products.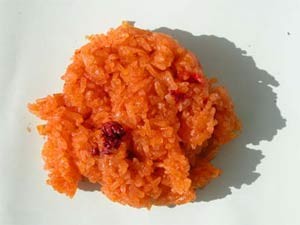 Industrial pigment of red color is used in a kind of steamed glutinous rice to enhance its color

Reporting on investigation results after inspecting chemical shops in District 5, Mr. Quang Thanh, head of Market Management Team 5B, showed his concerns about the pigments used in food products which have sold extremely well to food processing enterprises due to their economic efficiency.

Indicating a series of pigments of various colors labeled "Food Pigment Kim Hung," Thanh said, "They are really very hazardous industrial pigments which cause danger to consumers' lives."

These pigments are not easily removed by water and soap. If just a tiny pinch of this pigment comes into contact with fingertips, they will swell up immediately. At present, these pigments are widely used in various kinds of steamed glutinous rice and cakes to enhance their colors, making them look more delicious.

Aside from Kim Hung, many other fake food pigments with labels like My Hoa, Chicken (Con Ga), Cook (Dau Bep) have been widely sold on the market at an average price of VND2,000, fifteen to twenty times lower than genuine prices.

According to Thanh, it is hard to track down the manufacturers of these fake products as the addresses and telephone numbers given on the products' labels are nonexistent.

As far back as 2003, the people of HCMC were shocked at the news that 100 percent of inspected samples of rice noodles contained formaldehyde, a hazardous chemical prohibited from use in foods. In 2005, the rate was reduced to 28 percent, and in late 2005 it increased again to 45%. Nowadays, formaldehyde is not only found in rice noodles but also in rice vermicelli.

Besides formaldehyde, tinopal, a fluorescent whitening agent used in detergent powders and liquids, has been found in rice vermicelli – used to make it look whiter and brighter. Titanium has recently been found in the production of syrup ice-cream.

Other chemicals found in food processing are saltpeter, boracic, sodium cyclamate, saccharine, sodium hydrosulphide and phosphoric acid. Displayed together with said chemicals for sale are several extremely toxic chemicals used in polishing, plating and metal analysis such as sodium cyanua and sodium cyanite.

Recently, Market Management Team 5B seized 450 kilos of sodium cyanite from a shop in District 5, which did not have a license to sell the particularly hazardous chemical.

Commenting on current measures for controlling the trading of chemicals, a high-ranking official of the HCMC Market Management Department said it is hard to find the origin of the chemicals on the market. Once imported chemicals are delivered to chemical shops, the owners usually tear out the packing, divide and put the chemicals into smaller bags for retail sale.

As a result, these chemicals are sold without labels or even sublabels in Vietnamese.

He added that trading chemicals requires traders to meet a number of conditions; however, relevant authorities usually ignore them when issuing business licenses to chemical traders.

In addition, traders are willing to ignore regulations on trading chemicals. They will sell chemicals to anyone with enough money without bothering themselves with the purchaser's purposes.

Moreover, most current regulations on chemical management are out of date. For instance, traders charged with trading forbidden chemicals are only subjected to administrative fines or penalties instead of facing criminal prosecution.

Consequently, more and more fake cosmetics, medicines, sprays, and toxic chemicals are sold in the market, leading to increasing cases of food poisoning.

Many people think that relevant authorities must unmask the magnates who illegally import chemicals, taking tough measures against them and their forbidden chemical traders. By doing so, trading chemicals will gradually be put under control.