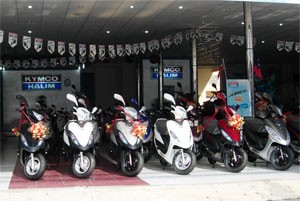 Most of motorbikes made in Viet Nam are products of joint-venture companies. (Photo: Hoang Uy)
The Ministry of Industry has approved a development strategy for Viet Nam's motorbike industry aiming to make it a major player in Southeast Asia by 2015, but is it wishful thinking?
There are currently 52 motorbike manufacturers in Viet Nam, including 42 local producers and seven joint ventures with foreign firms, according to the Vietnam Bicycle and Motorbike Association.
Recently, the seven joint ventures have begun to overwhelm local manufacturers. Sales for locally made bikes have plummeted by about 60% last year.
So is this spelling the end for home grown motorbikes? According to industry experts, most local manufacturers are small-scale operations without big budgets for marketing and research and design.
According to the Ministry of Industry, the ratio of riders to motorbikes in Viet Nam today is 7:1. This figure is estimated to fall to 6:1 by next year. To boost their sales, local manufacturers are hoping to tap into markets in outlying areas where consumers are more likely to purchase lower-priced vehicles, between US$300 and US$450 each.
The ministry's Industrial Policies and Strategies Institute predicted that Laos, Cambodia and Africa would be key markets for motorbikes with motors under 175 cc.
Nevertheless, to compete in the current marketplace, Vietnamese motorbike manufacturers must become more operationally efficient.

Experts have suggested that smaller companies should merge with each other or with larger corporations, focus on product design and improve their distribution systems.