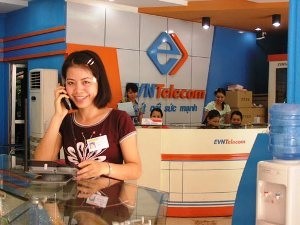 An undated file photo shows an EVN Telecom business office
Hanoi Telecom Corp. has sent a letter to the Competition Department, Vietnamese Ministry of Industry and Trade saying that if mobile network Viettel is allowed to take over cash-trapped EVN Telecom, it would breach the country's Competition Law.
The dispatch followed a Hanoi Telecom proposal dated October 21, 2011 sent to Deputy Prime Minister Vu Van Ninh saying Hanoi Telecom is ready to buy EVN Telecom with cash.
The proposal said Hanoi Telecom is ready to purchase the 3G broadband and network infrastructure from the cash-trapped company. It added EVN Telecom's 3G band and infrastructure system should be exploited effectively in such merge and acquisition.
Hanoi Telecom deputy general director Nguyen Anh Dung said it was likely that EVN Telecom would merge with Viettel this month.
If this is the case, the major network Viettel will hold more than half of the country's all 3G frequency resources, he said. This would breach Article 13 of the Competition Law, he added.
Hanoi Telecom currently co-runs mobile network Vietnamobile with Hutchison Telecom International.
The Ministry of Information and Communications had earlier said it was of the view that it was time to merge cash-trapped EVN Telecom with another State-run telephone network operator.
EVN Telecom, a unit of State utility Vietnam Electricity Group (EVN), has reported significant losses and debts due to connection fees and frequency charges.
The domestic telecommunications market is currently dominated by MobiFone, VinaPhone and Viettel – all Vietnamese. Other networks like Vietnamobile and Beeline hold a small market share.