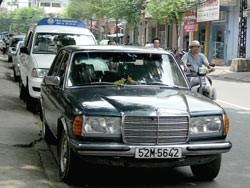 Used cars in a Ho Chi Minh City street (Photo: TC)
The Circular No. 03/2006 providing guidelines on importing used cars was promulgated on March 31, 2006.
Accordingly, the circular regulated that the cars must not be more than five years old to the year they are imported, and the used cars must have been registered for six months.
They must also run up at least 10,000 kilometers on the clock to the day they were imported.
In addition, the manufacture year will be identified based on registration number, chassis number, technological documents, and the year written on either the original Registration Certificate or Cancellation of Register Certificate, a certificate from the exporting country revoking the original registration.
Viet Nam does not allow to import right-hand drive vehicles, used ambulances. The prohibition applies to vehicles which are structurally modified.
Disassembling vehicles for shipping is prohibited as well.
Related articles:
Tariff on Imported Used Cars to Be Promulgated
Foreign Used Cars Hunted by Vietnamese