Lee & Man Viet Nam Paper Co. yesterday held a ground-breaking ceremony for a paper mill in the Mekong Delta province of Hau Giang.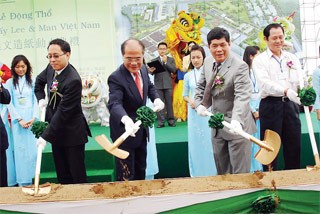 Deputy PM Nguyen Sinh Hung (C, F) at the ground-breaking ceremony
Occupying 200 hectares, the country's biggest such mill yet will be able to produce 630,000 tons of paper annually at first and two million tons later on.
The mill, scheduled to take 14 months to build and equip, is part of a plan that includes building a pulp mill with annual output capacity of 1.5 million tons.
Lee & Man Viet Nam will plant 120,000 hectares of cajuput trees to feed the two mills and thereby increase forest coverage in the Mekong Delta, a company representative told Deputy Prime Minister Nguyen Sinh Hung and the other assembled guests.
The subsidiary of Hong Kong-based Lee & Man Paper Manufacturing received its investment licenses for the mills from Hau Giang authorities in late June.
These are the first big foreign direct investment projects in Hau Giang since the province was established in 2003.
Lee & Man plans to invest US$1.2 billion to build the two mills in three phases.
Once in full operation, they will employ between 4,000 and 6,000 local people directly along with hundreds of thousands involved in forest cultivation.
The company used the ground-breaking ceremony to announce a donation of VND6.4 billion (US$400,000) to upgrade and build schools in Hau Giang.