The central province of Binh Dinh is the country's largest granite manufacturer, with rich deposits of the resource. However, the local marble and granite manufacturing industry remains undeveloped due to many issues.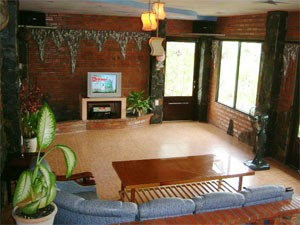 A villa with crimson granite tile floor in HCMC's District 7 (Photo: Minh Tri)
Construction experts say local granite demand moves up strongly since builders favor natural building materials as they follow the global eco-friendly trend.
Despite the local increasing consumption and rich deposit of granite, the marble and granite manufacturing industry of Binh Dinh Province remains undeveloped.
Most local manufacturers still quarry granite manually, leaving them struggling to mine hi-quality granite in large amounts.
Therefore, the material supply meets up 60 percent of local manufacturing plants' output, while the rests are from neighboring provinces including Phu Yen, Khanh Hoa, Gia Lai and Kon Tum.
However, the material shortage was getting worse as authorities of those provinces forbade local granite quarries from transporting the resource to other places.
Analysts say the stone industry requires well-trained workforce, but most employees working in Binh Dinh Province's granite manufacturing industry remain inexperienced.
Domestic granite producers are under high pressures, which are piled up by the harsh competition from imported products from abroad.
Therefore, authorities and businesses in Binh Dinh Province should urgently set up measures to boost the local granite manufacturing industry.
"To boost the local granite supply, the province's authorities have set up detailed plans on exploiting the resource for local quarries by 2015," says Vo Mai Hung, deputy head of the department of industry management [under the Binh Dinh Province Department of Industry and Trade].
"There are 23 granite mines in Binh Dinh Province, with the total deposit of around 66 cubic meters. The amount is enough for local manufacturers until 2020.'
However, producers also have to set up long-term business plans, train their workforce and upgrade technologies and equipments to meet up the increasing consumption.
Le Anh Tuan, general director of granite manufacturer Hoan Cau says most businesses earlier hesitated to buy modern equipments to expose granite deposits as the permitted mining period of 4-5 years was too short.
The period is now extended to 15-20 years, encouraging local manufacturers with strong finance to beef up their exploitation, Tuan said.