Prime Minister Nguyen Tan Dung on Monday (Nov 15) requested the Ministry of Finance to release a report of business results of State-run corporations and economic groups (SOEs).
He made this request at the second session of the 13th National Assembly, calling on all State-owned enterprises to focus on their core businesses while planning to divert to supplementary businesses.
The Government also asked relevant bodies and ministries to set up plans on restructuring SOEs that have suffered losses and rearrange organizational structures and corporate governance in wholly State-invested companies.
In addition, the Government promised to create an equal playing field across all sectors, putting all enterprises into a competitive business environment while also vowing to publicize business results of SOEs.
However, at a seminar held by the Ministry of Finance in Hanoi on Nov.15, Ph.D Hoang Tran Hau, Vice Director of the Monetary Academy said that it is important to maintain SOEs, as they are the backbone of the national economy and cover fields that private companies are unable to.
He stressed the need to separate the functions of making profits and the macro-management of SOEs.
At the seminar, participants said restructuring schemes for SOEs should be carried out during the 2012-2015 period.
As per the guideline, SOEs operating in processing industries, electricity production and distribution, gas, water, transport, logistics, telecom, mining, banking and finance hold about 80 percent of the total equity.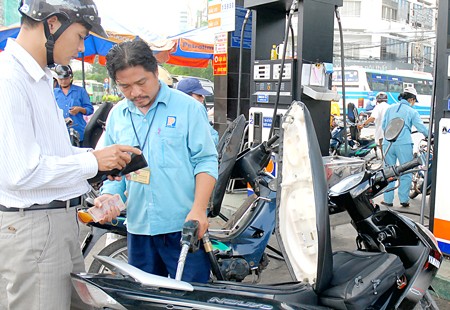 Public opinion suggest that certain vital sectors such as electricity, petroleum exploitation, post and telecom should remain under Government monopoly. Photo: buying petrol at a gas station
Tran Xuan Hai, an expert at the Monetary Academy argued that while SOEs were given priority in areas such as natural resources, land and capital, they operated less effectively than other sectors. The effectiveness of SOEs is measured by the financial business sheet.
Vo Tri Thanh, vice director of the Central Institute for Economic Management reviewed 20 years of restructuring of SOEs and stated that it was a painful process, injuring interests of some individuals, groups of businesses and their ideology. The restructuring of SOEs should be in accordance with International Financial Reporting Standards and those calculated under the Vietnamese accounting standards varied significantly, he stated.
He said that challenges in the financial services sectors were foreseen when the country joined the WTO.
He said unhealthy monopolies had also been established by several major SOEs such as Petrolimex (accounting for 60 percent of the petrol market share), Electricity of Vietnam (accounting for all power distribution) and the Vietnam National Coal and Mineral Industries Holdings Corporation Ltd. Such monopolies had distorted the domestic market while hurting the country and consumer benefits and restraining competitiveness.
According to Dr Thanh, inadequate technology and poor corporate governance, especially for financial management, were the two major disadvantages of domestic enterprises.
He also raised alarm of the rising proportions of bad debts in recent years.
Assistant Professor Ngo Tri Long added that during the past years, many SOEs had poured too much money into non-core businesses such as securities, banking, insurance and real estate, causing huge losses.
Representative Bui Ngoc Son, from the Institute of Economics and Politics suggested that SOE restructuring plans should be carried out based on State support, while certain vital sectors such as electricity, petroleum exploitation, post and telecom should remain under Government monopoly.
Nguyen Minh Phong, Hanoi Institute for Economics and Society Research Centre, voiced concern over the limitations of provincialism, assignment period and the quest for achievement and subjectivity.
According to the Central Institute for Economic Management, as of 2011, State-run corporations and economic groups possess total assets worth VND1,500 trillion (US$71.77 billion) with a total equity of VND572 trillion($27.37 billion).
A survey conducted by the General Statistics Office showed that SOE returns on investment capital during 2007-09 was quite low, from 3.5 to 4.3 percent compared to that of foreign invested enterprises at 9.1 to 11.7 percent.