Electricity of Vietnam (EVN) has been told to forget about setting up a public trading company to sell electricity on its behalf, at least for now, and continue in its role as the nation's sole electricity supplier.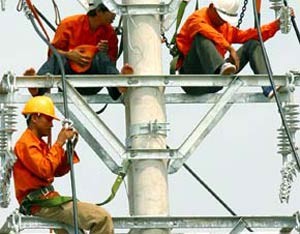 Electricity workers repair a high-tension wire

 

Deputy PM Nguyen Sinh Hung recently signed the order and told EVN to stop the privatization of its power distribution units at once, and to come up with a plan for privatizing companies under the corporation by 2010.

The Ministry of Industry and Trade must work with the distribution companies to determine how far along the privatization trail they have traveled and, in the final quarter of 2007, submit proposals to the prime minister for their equitization, as the process is called in Viet Nam.

When EVN sent its plans for a public trading company to Prime Minister Nguyen Tan Dung three months ago, the proposal raised a storm of protest in the media and among the public at large.

Sai Gon Giai Phong was in there batting for Mr. and Mrs. Nguyen and ran a series of articles on why the idea was outrageous.