In response to current rumor that prices of about 300 goods items would increase soon, supermarkets in Ho Chi Minh City have affirmed that prices will remain unchanged.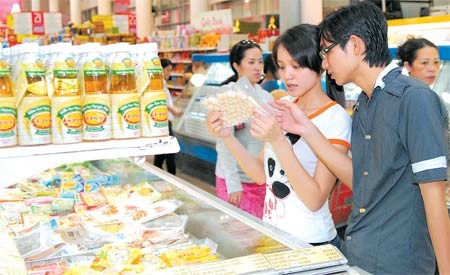 Shoppers check out locally made food at a supermarket in Ho Chi Minh City (Photo: SGGP)
Bui Hanh Thu, deputy general director of Saigon Co.op, Vietnam's leading supermarket chain, told Sai Gon Giai Phong that some suppliers of non-food consumer products have informed that they would raise their prices due to increasing costs.

She said Saigon Co.op will check the price of each product to see if their proposal is reasonable.

In the case, the supermarket will has to adjust prices, it will ensure that the adjustment benefits and protects consumers, she said, adding that prices of all of goods will remain unchanged by the end of August.

Ms. Thu said a price hike of over 10 percent is impossible because a sales promotion program will be launched in Ho Chi Minh City in late August, with many goods offered a 50 percent discount.

In addition, sales are usually low in September. If distributors raise their prices, it will immediately affect consumption, she added.

Duong Thi Quynh Trang, head of Big C's public relations department, said, "We are keeping track of prices and the market carefully to have the best business mode for customers."

"Until now, Big C hasn't received any price increase proposals from suppliers," she added.

It is not good to raise prices now though the number of shoppers at Big C has soared by 15 percent over the same period of last year, Ms. Trang said.

Prices have remained unchanged at SatraMart, MaxiMark and CitiMart.

Supermarkets and distributors affirmed that rice prices have also been stable thanks to plentiful supplies, and there won't be a surge in rice prices.