Economists predict the domestic gold price will likely hit VND14 million (US$875) per tael in the coming days.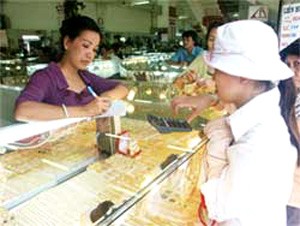 The domestic gold price will likely hit VND14 million per tael
They attribute the price increase to the devaluation of the US dollar, complicated movement of the world financial market, and a high demand for gold during the wedding season in China, India, and Viet Nam.
 
Another culprit of the rapid increase is a rush for gold in the past few days. Most  buyers are gold traders. They suffered losses from past transactions due to falling prices so now they have rushed to buy gold in the hope of recovering their losses.
 
Some other buyers have bought gold because they expect the gold price to soar to VND15 million a tael. 
 
Late yesterday afternoon, gold biscuits were purchased at VND13.8 million and sold VND 13.9 million per tael at the Saigon Jewelry Company (SJC). The selling price increased VND200,000 per tael compared to the end of the previous day, VND400,000 per tael compared to the beginning of the week, and 12 percent from early this year.
 
The world gold price also increased to US$712 per ounce yesterday, an increase of US$8.5 per ounce over the previous day.