The gold price in Viet Nam has been stable for the past two days while the world price has risen by almost US$12 per ounce to US$640.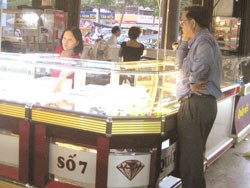 A jewelry shop in Ho Chi Minh City (Photo: TC)
In the April 27 afternoon, Saigon Jewelry Company (SJC) gold was priced at VND12.65 million per tael in Ho Chi Minh City, VND12.75 million in Ha Noi and VND12.6 million in the central city of Nha Trang. Phu Nhuan Jewelry Company (PNJ) gold was priced at VND12.6 million per tael.
In that afternoon, the domestic price in Viet Nam was still VND200,000-250,000 higher than the world price though the gap was narrower.
SJC has supplied for the domestic market over 6,000 SJC gold taels a day since April 20. Meanwhile, PNJ has imported 650 kilos of gold ingots in the past few days to produce jewelry items.
Gold is now no longer hot in the domestic market as it was last week.